Transportation
Injection Mold Projects in the Automotive Industry use very large and extremely heavy molds. Some of these molds are in excess of 100,000 lbs., and require a unique method of handling. To keep up with demand within the Automotive Industry, these molds are used around the clock and any down time can be very costly.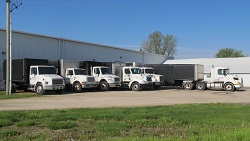 Damage to one of these huge molds, will stop all production, and requires immediate repair. To pick up and return these molds 24/7 requires a complete fleet of specially designed trucks, capable of handling the weight demand.




To meet this challenge SPE-Artisan Automotive Division, has set up a specially designed fleet of Trucks( with custom covers), ready to have any size mold hoisted on to the flat bed, for immediate transport to our 24/7 facility, repaired, and returned to the client in just a few hours.